MeathLGFA U14 Girls Div 9 Champions Final
No better feeling than waking up as County champs !!!
The game was played in front of a large crowd on Sunday afternoon in Trim. This added to the excitement, in what was for all the Bective girls – their first ever final in a green and white jersey. The Bective girls thrilled their supporters with an exciting game of football and a great win over Trim.
Bective played into the strong wind in the first half, and did well to be 4 points up at the break. This was largely down to serious work from the Bective defenders and goal keeper, who withstood serious pressure from the Trim forwards.
Half time Score
Bective 3-00
Rathkenny 1-02
With the wind behind them in the second half, they pushed on – and saw out the game to win their first ever final !!!
Final Score
Bective 6-06
Rathkenny 2-04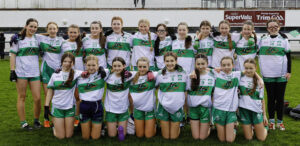 Well done to the whole panel and their mentors on yesterdays success. Also a MASSIVE thanks to all who helped out with the team over the year.
Thanks to Patricia Mead who presented the winning cup to Bective joint captains Holly O'Neill and Anna Pender.
After the game – the girls and their families were all treated to a post match reception, with pizza,back in our clubhouse.
Heres a few photos from yesterdays game against Trim.
https://www.sportsaction.ie/2023-photos/Bective-GFC/Meath-LGFA-U14-Girls-Div-9-Final-Bective-v-Trim-/
By paulagreif
Mon 20th Nov