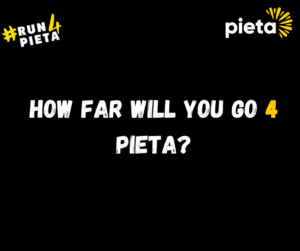 #Run4Pieta – Run in Darkness & in Light this May in aid of Pieta Sunrise Appeal
How far will you go for Pieta
How to get involved – Bective GFC will run for 24 hours consecutively, within HSE-Covid19 guidelines, from Friday 15th 7:30pm – Saturday 16th at 7:30pm.
We are reaching out to all club members to get involved – players, families, supporters, friends – run walk, cycle or crawl for 30 minutes ! ! For example a family of 4 could run for 30 mins, covering 5k x 4 = 20Km, so the more people running the more KM's covered.
All you have to do is book your 30 minute slot – make a donation to Pieta house and send us your results !
We'd love to see everyone in their Bective colours !! Make sure and send in loads of pictures/selfies ! also – anyone with Bective Flags – please hang them out to support all our walkers and runners !
– We have 48 – 30min slots.
– Make sure to use a smart phone/watch to track distance via preferred apps. Send your result in so that we can track all distances covered.